Appropriate PIR specification is pivotal to positive outcomes from Part L amendments
About the article
Published on
20 October 2022
Type
Press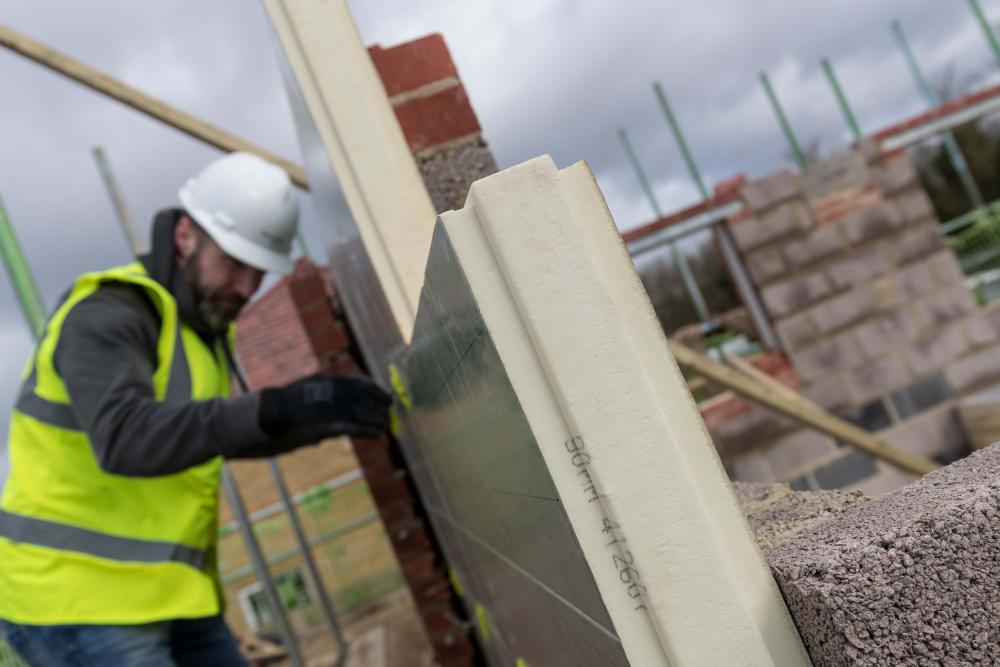 The aim of the updated Part L regulations is to reduce carbon emissions from new-build homes by 31% through a combination of fabric improvements, low carbon heating technologies and PV panels. The amendments include a tightening of standards for already-built homes in relation to extensions, replacements and repairs.
As is often the case when new standards are introduced, there will be a transition period of adoption. Therefore, building work which has already commenced will come under the previous Approved Document L.  A significant change to transitional arrangements is that they will apply on a dwelling-by-dwelling basis, rather than to the site as a whole. For larger sites, that could mean the design and construction of properties that span three different sets of regulations.
Future Homes Standard foundations
The new Part L regulations are regarded as a vital stepping stone to the Future Homes Standard (FHS) which sets the parameters for new housing to produce 75-80% fewer carbon emissions compared to current standards by 2025.
The FHS is seen as a milestone for the construction industry in the way properties are built. It includes a number of new initiatives to ensure homes are constructed as-designed in order to meet the required energy performance. These include a more stringent on-site monitoring process, requiring contractors to photograph their work to give homeowners a better understanding of how the as-built energy calculation of their property was carried out.
The FHS requires a more holistic approach when determining a property's anticipated energy performance via updated SAP methodology, with greater attention being paid to heat loss at junction details such as windows. This is calculated via the PSI value method, which the Future Homes Standard is looking to standardise according to different window types. Seemingly minor amendments such as this could prove crucial to ensuring necessary thermal outcomes are met.
As with the Part L interim regulations, the FHS highlights a need for improving energy standards of a building's fabric, particularly the insulation aspect. Poorly-insulated building fabric is a major contributor to domestic energy wastage and buildings falling short of U-value requirements. Polyisocyanurate (PIR) panels, rather than mineral fibre-based insulation, are seen as a long-term counter measure to a shortfall in energy performance.
PIR: the ideal insulation solution
There are numerous benefits associated with PIR insulation. Its closed-cell structure means it doesn't absorb water, allowing the thermal performance and reliability of the product to be retained over time.
With lambda values as low as 0.022 W/mK, PIR provides excellent performance. This, coupled with its slim composition, means it requires less space to achieve the same U-value as other insulation materials. Thisis of particular benefit to housebuilders looking to maximise interior living space in multi-property developments with limited plot size.
Unlike fibrous insulation, which deteriorates over time when damp sets in, PIR insulation's structural strength enables a consistent performance that will last, negating costly repairs and maintaining its thermal qualities. PIR insulation is also renowned for its adaptability. It is the ideal solution for a range of applications such as floors, walls, pitched and flat roofing.
PIR designed with the installer and end user in mind
Innovations, such as the tongue-and-groove joint which features on all four edges of Recticel's rigid full-fill panel, Eurowall®+, have helped further establish PIR performance levels. The 10mm air gap, which is created by a 90mm Eurowall®+ PIR board achieving a U-value of 0.18 W/m2K in a traditional 100mm masonry cavity wall, makes for a more convenient fit for bricklayers when it comes to installing the insulation.  This results in reduced labour time and a cost-effective, more sustainable installation that doesn't compromise its superb long-term thermal performance.
There is no doubt the Part L changes and the subsequent introduction of the FHS will provide a challenge for builders across the board. But the tighter regulations regarding property design and the materials used to fulfil the construction process, particularly in relation to the building's fabric, is absolutely crucial if the low-carbon homes required to create a safer, healthier environment for future generations are to be delivered.