Vacuum insulation panels
Vacuum Insulation Panel, also known as VIP, is a new kind of insulation material to meet very high thermal requirements.
What is a Vacuum Insulation Panel (VIP)?
Vacuum Insulation Panel, also known as VIP, is a new kind of insulation material in construction to meet very high thermal requirements. Our Core-VQ® vacuum insulation panels achieve a market leading lambda value of 0.006 W/mK! This high performing insulation is achieved by wrapping a rigid fumed silica core within a high barrier envelope. The combination of this specialist core material when under vacuum achieves a step change in performance when compared to traditional forms of insulation. Care should be taken when using Core-VQ® in order not to puncture it by drilling, milling and nailing.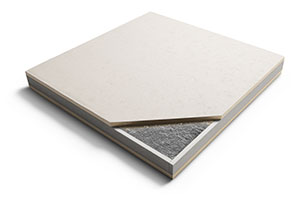 The best way to utilize the high insulation value VIPs offer is to ensure they have been fully encapsulated/protected at manufacturing stage, thus eliminating the risk of puncture during installation and use. This is the approach Recticel Insulation has taken when developing Deck-VQ®.
 
Recticel Insulation covered the core with high density boards to protect the core. That way of installation of the product goes much faster and safer. The solution called Deck-VQ® is so thin that it can be used in renovation for flat roofs and terraces where limited space is available. This means that using Deck-VQ® insulation board with thickness of 60mm, you can achieve 0.008W/mK!
In new builds it can avoid thresholds and lower the construction costs for terraces and dwellings.
In renovation you can avoid increasing the height of the upstands, avoid adapting windows, doors, while keeping the thermal design highly efficient (gutters, thermal bridges).

Features of Deck-VQ® insulation panels
High performance vacuum insulation panel (Core-VQ®)
High density polyisocyanurate (PIR) protection
Ultra-thin, available in 45mm & 60 mm
The terraces of the 'Residence Bellevue' apartment building in Saint-Idesbald have been renovated and permanently insulated with the new Deck-VQ® vacuum insulation panels from Recticel Insulation.
The ultra-thin panels are a fast and cost-efficient solution because no structural adjustments are required when renovating terraces and flat roofs.
Many apartments on the Belgian coast are not yet sufficiently insulated. The problem of very limited space for insulation arises especially for the renovation and insulation of roof terraces.