Deck-VQ® can be applied in warm flat roofs or terraces of new build and refurbishment projects. Generally speaking the panels are installed over the existing roof covering (refurbishment) or new vapour control layer (new build). The waterproofing system is then applied on top of the insulation and finished in an appropriate manner.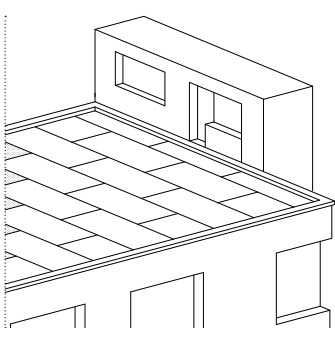 The Deck-VQ® concept is a complete package, designed to limit the risk of damaging the VIP inside during installation.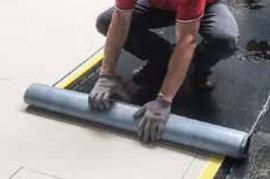 To take away your concerns, we have included a couple of features and services:
NO drilling allowed? How do I fix Deck-VQ®?
The PIR protection boards offer compatibility with a variety of adhesives and waterproofing systems*.
The high density PIR protects the VIP inside from normal physical damage, which allows a ballasted build-up.
NO sawing allowed? How do I cover the complete surface?
Deck-VQ® panels are available in four standard dimensions (mm x mm): 1200x600 / 1200x300 / 600x600 / 600x300 which make it possible to design an optimal configuration for your project.
Around details (e.g. corners, edges and roof penetrations) or to fill gaps, we provide PIR insulation in the corresponding thickness.
Our technical services can provide an optimized layout scheme (like a puzzle) as a guideline for the installation. Do not hesitate to contact us!

Example of a layout scheme: 
*We recommend cold adhered single-ply systems (e.g. fleece backed PVC or fleece backed EPDM) or multi-ply bituminous systems (self-adhesive partially bonded base sheet and torch-on cap sheet). For more information on compatibility or support for you project, please contact our technical services.

***UK ONLY: Liquid applied roofing is also possible. In this case, we provide a 3 mm bituminous layer on top.
Are you interested in our Deck-VQ Vacuum Insulation Panel?
Are you planning to specify Deck-VQ for your next roofing project and you have additional questions? Our vacuum insulation specialist will be happy to help you further!