Recticel Insulation focuses on thermal and acoustic innovation at this year's Futurebuild
Recticel Insulation, a reliable and experienced insulation partner and provider of high-quality solutions, is attending Futurebuild – its fourth successive appearance as a leading exhibitor at the showcase for product innovation in the construction industry.
About the article
Published on
05 March 2019
Type
News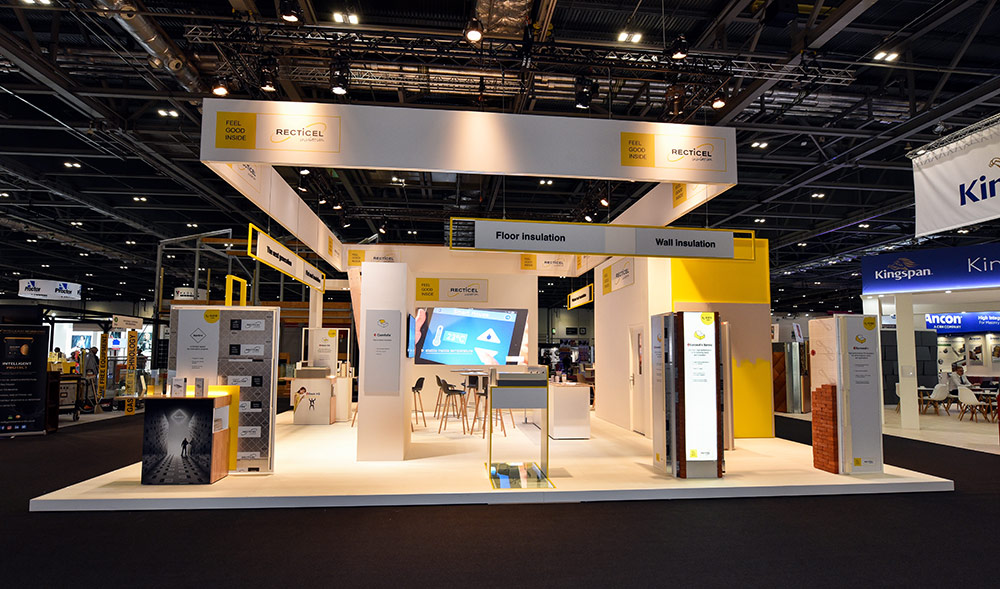 This year, visitors to Recticel's stand will be able to experience the company's innovative thermal and acoustic solutions; the next generation of insulation. These include Eurowall®+ Xentro®, an ultra-thin rigid foam board that provides maximum insulation for full-fill masonry cavity walls with a minimum thickness. Containing a tongue-and-groove system for optimum airtightness, this water-resistant solution offers outstanding thermal performance as well as simple and rapid installation. Eurofloor® Xentro® will also be on show. Ideal for floor applications, Eurofloor® Xentro®compares extremely favourably to standard PIR panels (0.022 W/mK). The insulation, as well as being water resistant and rapid to apply, features world-leading PIR technology and like Eurowall®+ Xentro®, produces a lambda value of just 0.019 W/mK.
Recticel will also be showcasing its ultra-thin vacuum insulation solution, Deck-VQ®, which offers superb thermal performance and maximum comfort for a wide range of flat roof and terrace applications where insulation build-up thickness is an issue. When space is at a premium, Deck-VQ® is the slender-form insulation solution that succeeds where traditional products have failed in the past. In terms of insulation specifically designed to reduce sound transference between walls, Recticel will be promoting Silentwall®, an acoustic insulation panel comprising a combination of fibres and recycled PU foam. This effective composition makes Silentwall® a go-to system with which to improve the acoustic performance of partition walls.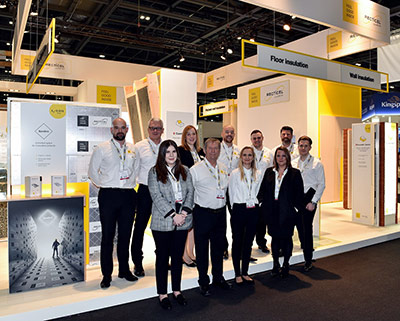 This year's stand is divided into application zones, where Recticel's technical experts will be available to offer guidance regarding the innovative products on show, as well as general insulation-related advice. The specialist sections include pitched-roof, flat roof, walls, floors, and an innovation zone. Gradient, Recticel's sister company, will also have an area dedicated to its range of high-quality, single-layer, tapered roofing systems.
Organisers expect nearly 30.000 'forward-thinking' professionals to attend this year's Futurebuild, along with more than 500 'product innovators'. More than 700 inspirational speakers will be appearing over the show's three days, and CPD learning is available in 17 educational programmes.
Joël Pirotte, Recticel Sales Director, said: "This year, we've created an even bigger, more attractive visitor experience at Futurebuild. We have a range of industry-leading insulation solutions to showcase, and a team of experts ready to help you find the right system for your building project. There is no better place than Futurebuild to show the world what we have to offer, as it's perfectly aligned with our drive for innovation and products which help create healthier, more comfortable interiors for generations to come."
The next generation is key to our success, as we strive to help create the next generation of energy efficient buildings for the future. Our aim is to create buildings that can be constructed efficiently, safely and offer occupants the highest levels of comfort along with reduced energy costs and improved lifecycle costs. Whatever the construction, whether it be designed for residential, commercial, agricultural or industrial use, Recticel has a solution to fulfil the building insulation envelope. As a service-driven business, our outstanding products are only part of our offering. Our technical expertise is also available, with Recticel representatives ensuring our insulation is specified and installed to the highest standards.
The next generation is our future and our products are your solution to creating a better building environment, fit for the future.
Recticel will be exhibiting at stand B60 at Futurebuild, which takes place between Tuesday, March 5th and Thursday, March 7th at London ExCel.